Our technology and digital processes are central to the strategic development of our projects. By leveraging custom-built computational systems, real-time data analysis, immersive visualization technologies, BIM processes, and urban and environmental analytics, we achieve the most optimal, appropriate, and creative design solutions to share with our clients and the industry at large.
We enhance our internal processes with custom-built data science and machine learning tools to meet the aspirations of our clients and advance the objectives of the cities in which we practice.
Computational Design
KPF's Computational Design group explores new technologies and techniques in the advancement of complex modeling, data management, analysis, and optimization for architectural designs that move beyond the boundaries imposed on projects by traditional design approaches.
They support projects across all phases, providing strategic expertise and leveraging applied research in building information modelling, computational design and contemporary data-driven digital workflows. The primary strands of the Digital Practice are computational design, complex geometry creation, digital fabrication, BIM strategy and visualization.
Urban Interface
KPF Urban Interface is a research and design wing within the firm that engages with contemporary issues impacting the future of our buildings and cities.
The group has launched a set of interactive, web-based tools to help the public participate in the design and development of their cities and communities, and builds custom tools to help individual project teams quickly explore high performing scenarios capable of addressing the complexities of the 21st century city.
Environmental Performance
KPF is committed to delivering healthy, resilient and sustainable projects at a global scale, working in urban regions facing some of the world's largest challenges caused by urbanization and climate change.
To address these goals, our dedicated design and research group, KPF Environmental Performance (KPFep), leverages computational simulation tools to support evidence-based design within our teams and understand energy demand, water use, thermal performance, and daylight access at both the building and urban scale.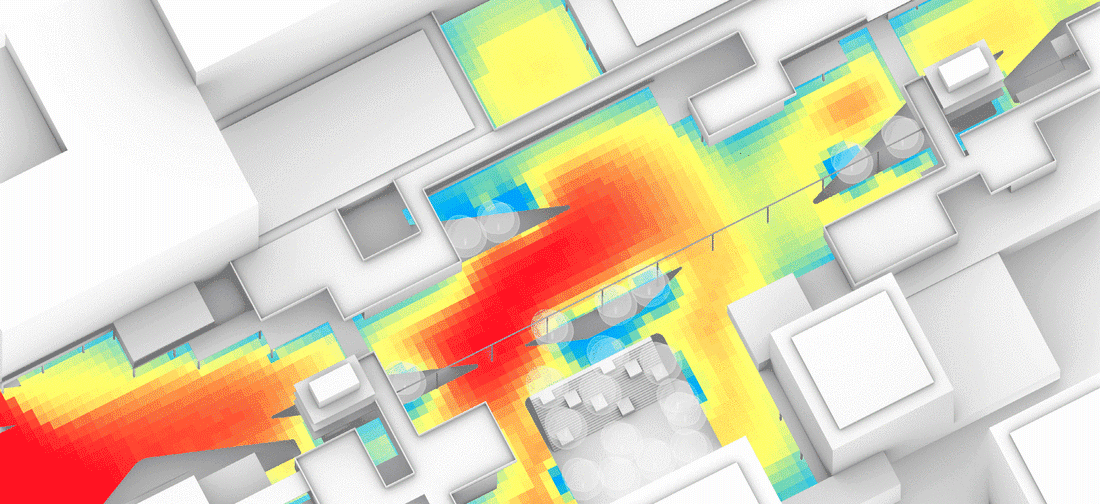 Applied Research
KPF Applied Research focuses on new and emerging technologies from diverse industries, applying advanced technology to our daily practice to improve design for our clients and our buildings' users.
KPF actively participates in the development of industry-leading software, asking questions about how virtual reality and augmented reality can improve global design collaboration, how to create better places for people by using computational design, and how to improve user comfort and building performance with cognitive environments and digital fabrication. While many developments have immediate real-world applications, others are more speculative. Throughout all challenges, we strive to deliver consistently innovative solutions to complex problems.
Making / Fabrication
Throughout the design process, KPF architects utilize both material and digital fabrication techniques to aid in the complex practice of choosing, manufacturing, and applying materials to projects of all scales.
Our New York and London offices house dedicated, multi-faceted spaces for fabrication and model making, with various hand tools, work surfaces, 3D printers, laser cutters, and more. Since 2018, the firm has showcased this process with a traveling exhibition, KPF Making, which celebrates the individual designer as collaborator, investigator, problem-solver, and maker, while demonstrating the symbiotic relationship between creation and production, iteration and finalization.